Rectangular Tanks: Patent #10, 150, 264
At Houston PolyTank, we fabricate industrial-strength plastic storage tanks to handle a comprehensive range of water, wastewater and chemical storage, including process tanks and reactor tanks. Each of our tanks is designed and extruded to handle harsh chemical and environmental conditions.
Our molds produce rectangular plastic tanks up to 18,000 gallons in capacity. Our rectangular tanks are structurally sound, require little maintenance, and feature one-inch thick sturdy walls and 1.5-inch thick end walls. Because of their shape, rectangular tanks can offer tremendous cost savings for shipping compared to cylindrical tanks.

All rectangular tanks are U.S. patented and we are in the process of being patented in many other countries.
Types of Rectangular Tanks and Applications
We custom design our plastic storage tanks to meet the needs of each unique specification, from water and wastewater storage to holding aggressive alkaline or acidic chemicals with pH levels of 0 to 14.
Our custom extrusion process allows each tank to precisely fit within their facility's, processes and needs.
Popular rectangular tank design options include:
Insertion into frac tanks

Insertion into metal caged trailer tanks

Insertion into standard shipping containers
We can utilize one or several tanks within these options.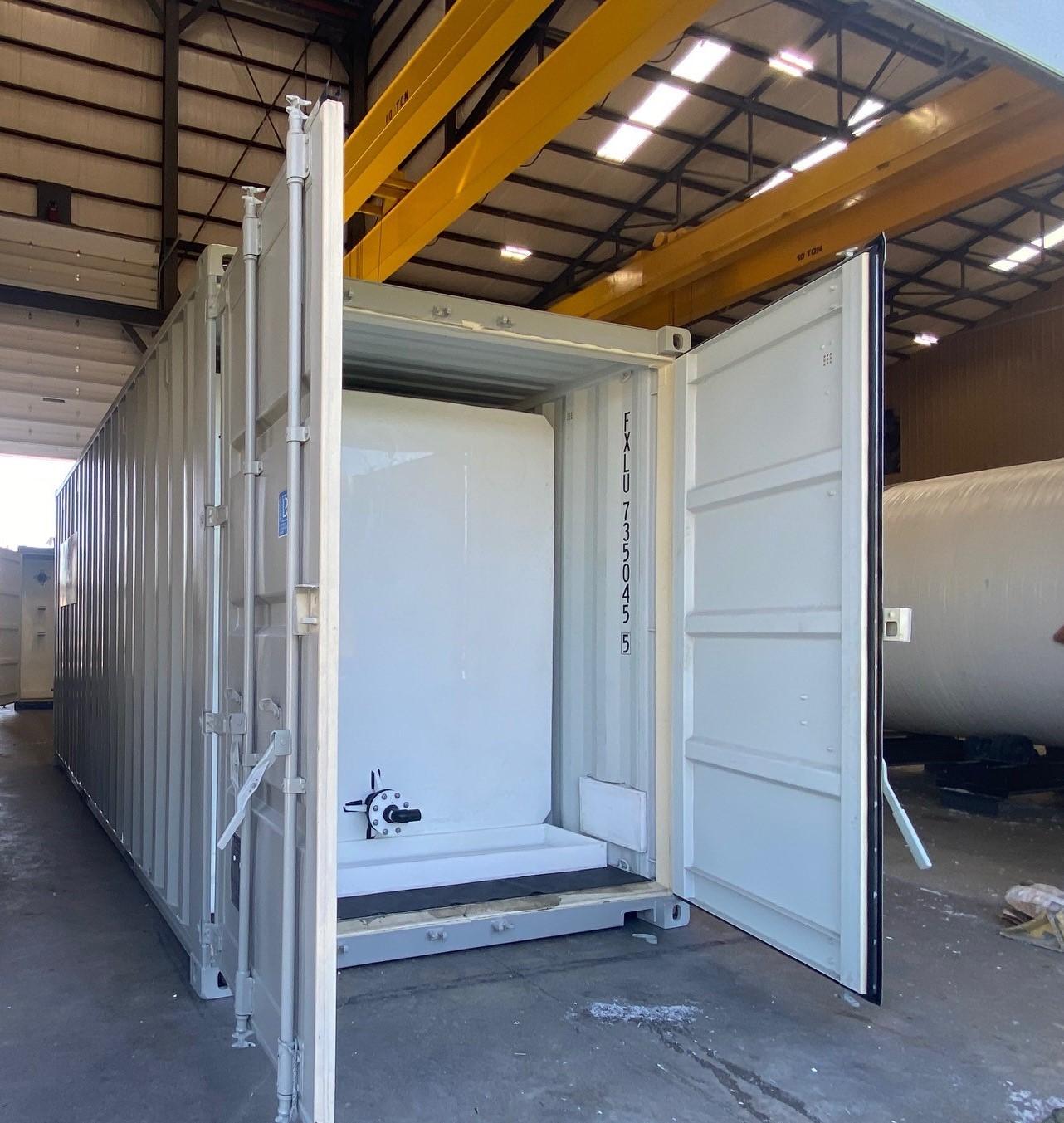 Houston Polytank manufactures rectangular storage tanks from high-density linear polyethylene (HDLPE) or polypropylene. Each of these plastic materials has unique features and advantages that make it ideal for specific applications.
Our extruded, plastic rectangular tanks are strong, long-lasting alternatives to other types of tanks. HDLPE is a rigid, dense plastic that can handle temperatures up to 120° F. For applications that require greater heat resistance up to 180° F and 200° F (for water), we recommend polypropylene tanks.
HDLPE and Polypropylene share the following beneficial properties:
Easy workability. HDLPE and polypropylene are easy to extrude and fabricate. The material itself is also non-toxic.
Resistance to chemical damage. These two plastics don't stain and can resist damage from both alkaline and acidic chemicals. Their low moisture absorption rate makes them an ideal choice for water, wastewater or chemical containers.
Good physical properties. HDLPE and polypropylene have a high degree of tensile strength and high compressive strength, so they won't crack under stress and maintain good stiffness and flexibility.
Resistance to conduction and heat. Both plastics are dielectric and resist heat absorption and damage within their specific temperature ranges.
These characteristics make both HDLPE and polypropylene ideal materials for rectangular tanks that handle long-term water, wastewater, and chemical applications.
Applications and Industries
Multiple industries use rectangular tanks to handle their water, wastewater and chemical storage and processing needs. At Houston PolyTank, we're proud to serve the following markets and applications:
Energy and alternative energy
(flow batteries and electricity storage)

Food

Mining

Municipalities

Oil and natural gas fracking

Petroleum

Pharmaceuticals

Shipping

Steel

Water and wastewater treatment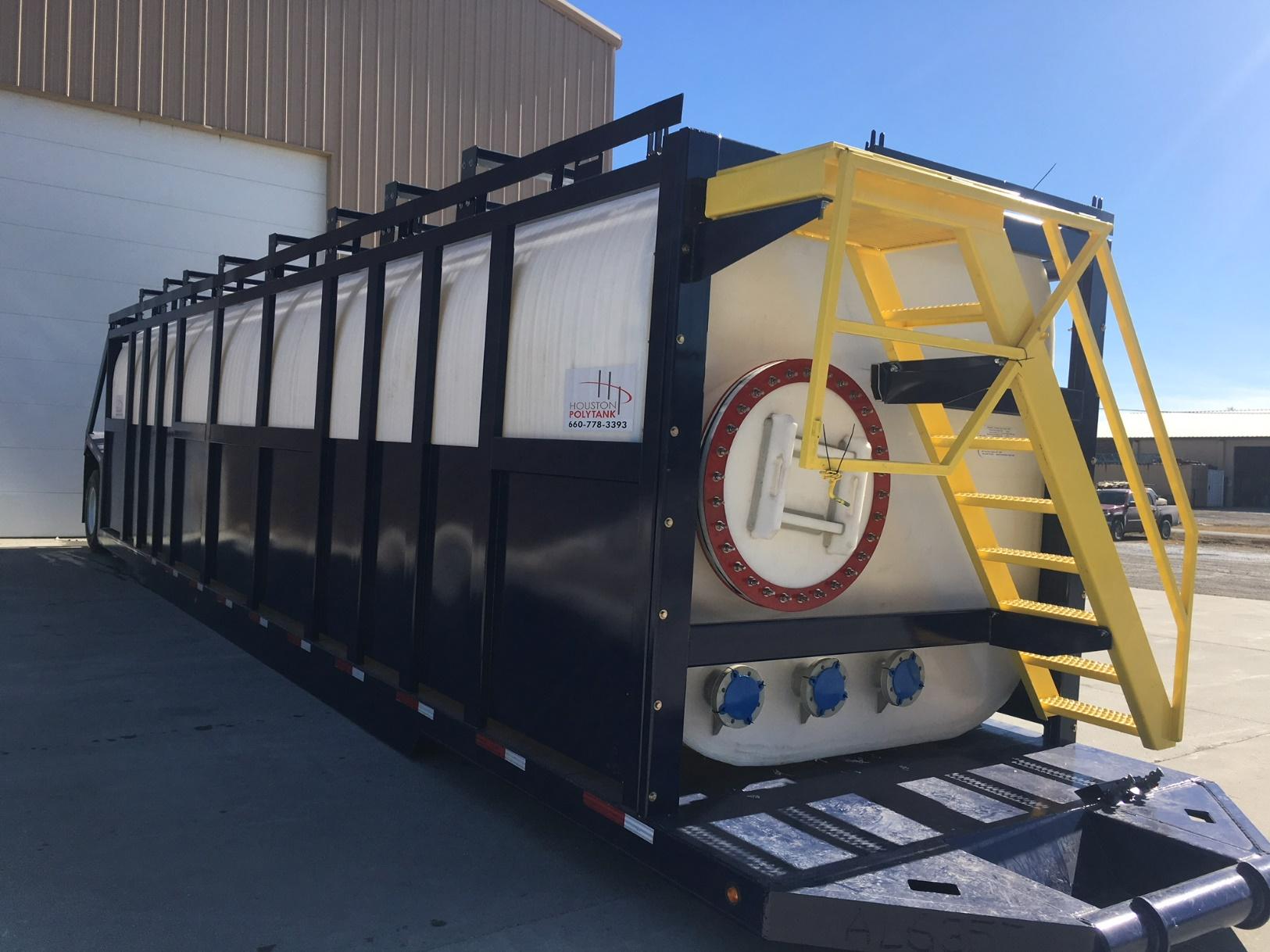 These characteristics make both HDLPE and polypropylene ideal materials for rectangular tanks that handle long-term water, wastewater, and chemical applications.
Plastic Tanks vs Steel or Fiberglass Tanks
Our HDLPE and polypropylene rectangular tanks perform as reliable alternatives to tanks constructed from carbon steel, stainless steel, fiberglass, or rotationally molded plastic.
In fact, our materials often outperform other alternatives and remove the need for sandblasting and repainting. Each tank is built to outlast and outperform competitive tanks.
Advantages of Plastic Rectangular Tanks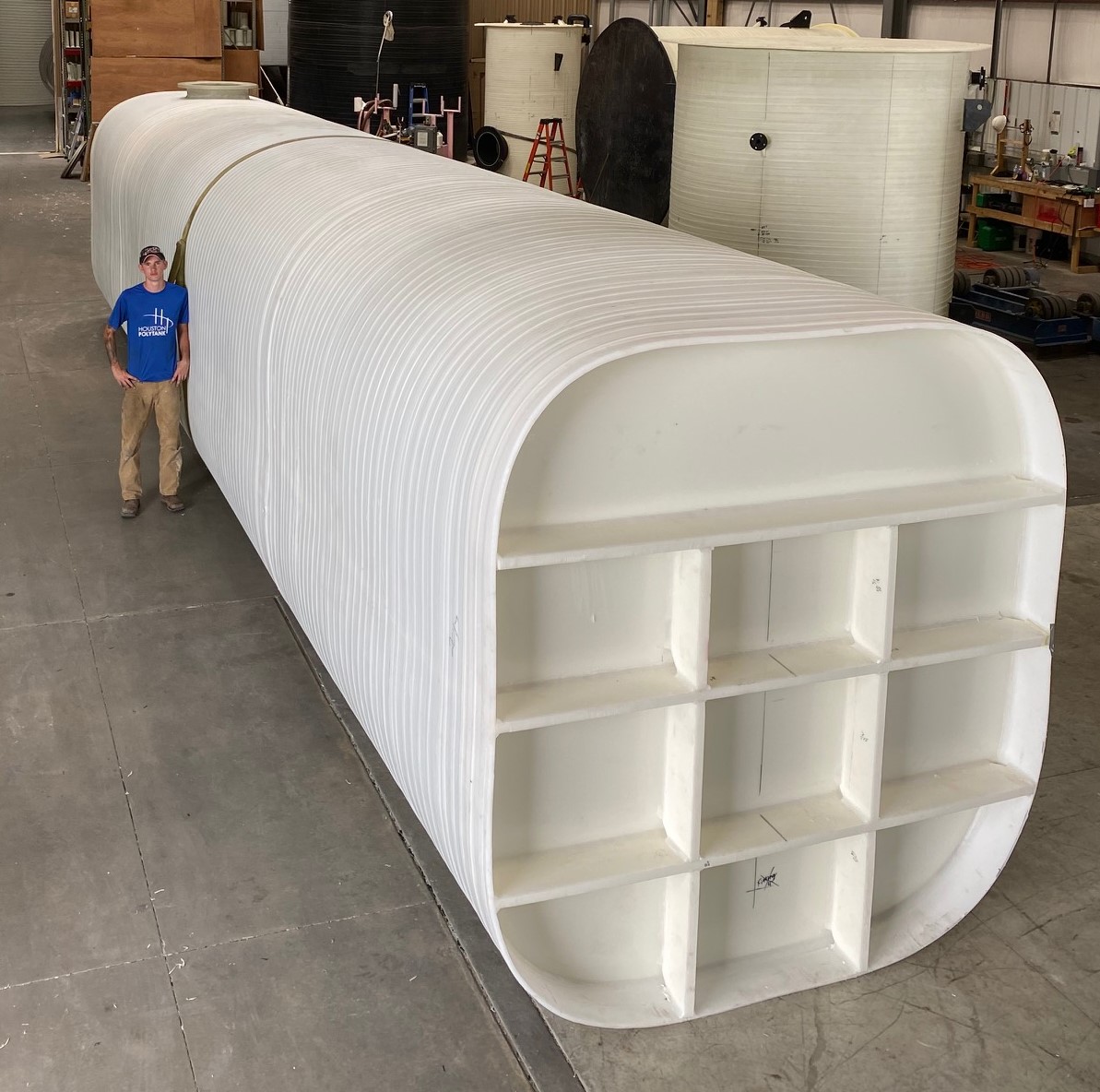 Plastic tanks offer numerous advantages over metal, fiberglass, and roto-molded alternatives. Commercial and industrial facilities can enjoy longer-lasting, more reliable tanks that require less maintenance and are less susceptible to corrosion and rust.
HDLPE and polypropylene both offer a rigid and virtually chemically inert material structure that's ideal for a wide variety of external and internal environments. Some of the most valuable advantages of choosing plastic rectangular tanks include:
While not all plastics are resistant to chemical damage, many varieties of plastic offer greater chemical resistance than fiberglass, carbon steel, or stainless steel. In addition to our HDLPE and polypropylene tanks, we offer the following specialty plastics that can handle the alkaline and acidic chemicals used in medical, pharmaceutical, chemical processing, food processing, and other challenging industrial applications.
Feel free to ask our staff for chemical resistance data sheets specific to your project.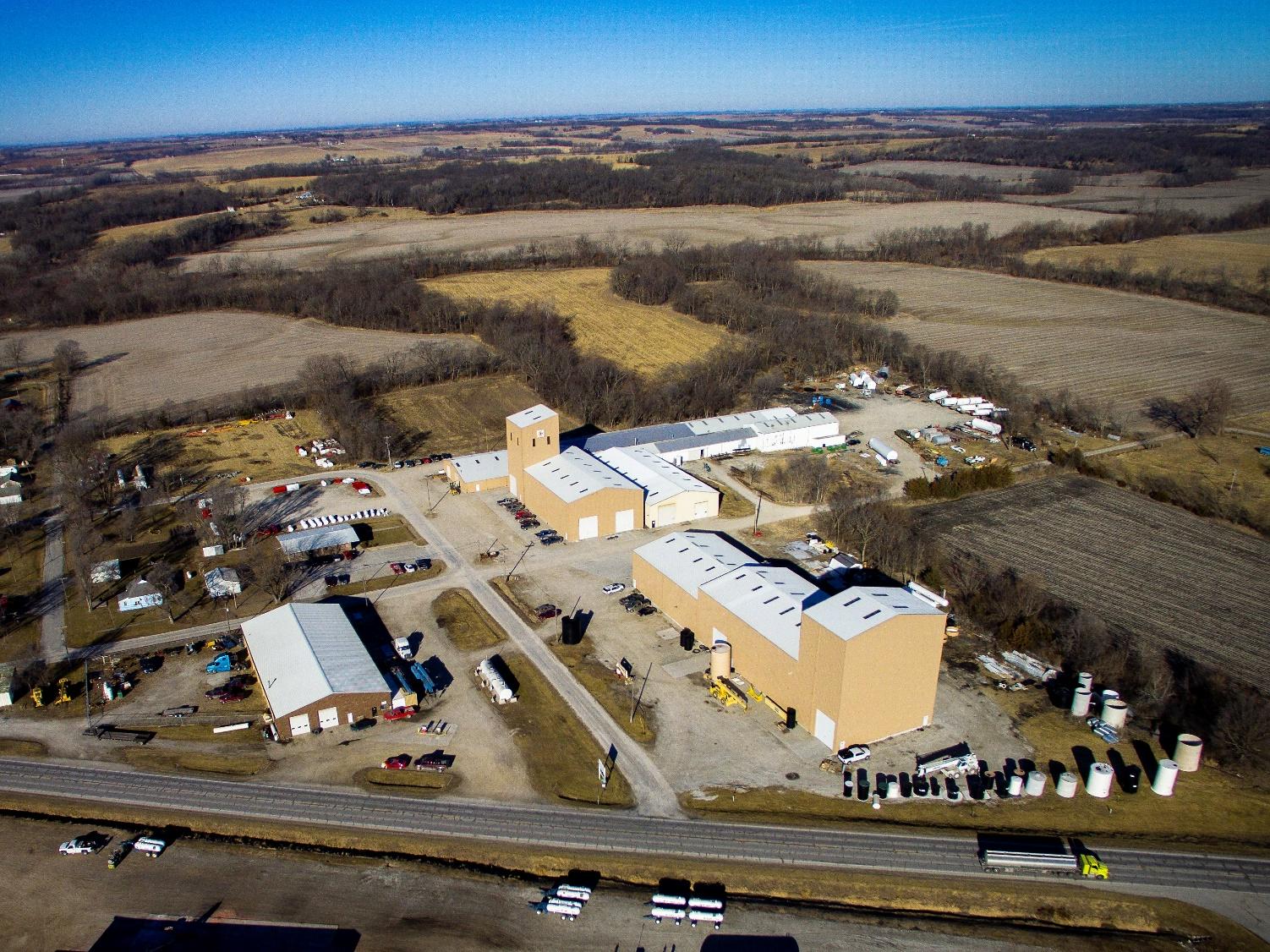 Corrosion resistance is just as important as reliable resistance to chemical damage. Tanks that hold chemicals and water—especially under heat or pressure—need to remain chemically inert for long or perpetual periods of use.
Even if they've been treated, metals such as carbon steel can still be vulnerable to corrosion and rust. Materials like stainless steel can degrade over time and develop a rough surface that becomes weak and corroded.
The rectangular tanks offer commercial and industrial users tremendous cost savings for transportation, for example an 18,000-gallon rectangular tank will be under 20% cost of shipping the 18,000-gallon cylindrical tank at a savings of over 80%. Shipping a large cylindrical tank overseas is impractical while a rectangular container tank can be handled all around the world.
Our plastic tanks are repairable either on-site or at our facility. Houston PolyTank has customers all around the U.S. and our tanks are installed and operating from Long Island in the East Coast to Southern California in the West and Alaska.
Contact us today to learn more about our tank fabrication process or request a quote to start designing an optimal storage or processing system for your company.